The prospect of a dozen or more Wine Academy students mingling in a basement classroom seemed risky in the face of the coronavirus threat, and potentially hazardous to instructor Joe Bernardo. Friends and past students were concerned. Enter the Nevada Grapegrowers and Winemakers, who immediately went to work setting up a remote class via teleconference.
Read More
Plans are underway for the 2020 Nevada Vinny Awards. Commercial wines will again be judged separately from homemade wines. Grape Basin News will step back from its 2019 role as producer of the award show, serving only as communication advisor and title sponsor.
Read More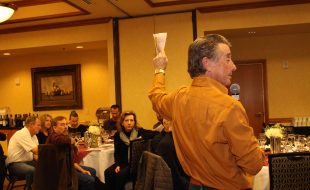 After more than a year of discussion and a false start in early 2019, Nevada has an organization devoted exclusively to viticulture and the craft of winemaking. Nevada Grape Growers and Winemakers took flight with 34 viticulturists, and amateur and professional winemakers in attendance. The group will meet monthly, hosted by vineyard owners.
Read More
Founders of the Nevada Grape Growers and Winemakers invited friends and family to celebrate their impending launch with a winemaker dinner. Reno's Wild River Grille built a menu around homemade Nevada wines, including several selections from Dyette Family Vineyard. Photo @GrapeBasinNews: Adrian Dyette with daughter Christine
Read More
After enduring a health scare this fall, Joe Bernardo and his doctor have agreed, it's time to walk away from some of life's most demanding activities. Partnership in Basin and Range Cellars tops the list. Photo by Grape Basin News: Joe Bernardo in the tasting room on December 22, 2019
Read More
Grape Basin News is inviting all Nevada grape producers to contribute harvest results for 2019, as we begin to record the state's annual grape crop. The reports will establish a baseline to track future expansion of both industrial and hobbyist viticulture in Nevada.
Read More
Behind the bar at the Nevada Sunset Winery  tasting room this week Alynn Delisle was touting their newest product. The sparkling wine is dubbed "Reno Sparkles."  Nevada Sunset collaborated with Crystal Basin Cellars to unveil the bubbly during the holiday season.
Read More
Five Nevada winemakers brought home medals in the American Wine Society's 2019 Amateur Wine Competition, including two golds and a double gold. Two of them have advice for amateur winemakers who would like to compete.
Read More
Nevada Vines & Wines members voted on Wednesday to retain Teri Bath as president of the board of directors. Adrian Dyette was also reelected, and Sparks resident Craig DeGiovanni was elected as a new member .
Read More
Target Your Customer
Reach Your Prospect


Grow Your Business
Collab.ink DM is the marketing partner to promote your business. Let us help you bring your passion to the world through digital marketing.
Some of our services include:
Creating strategic marketing plans
Increasing social media reach
Elevating sales with email marketing
Rising your website listing with content
Contact us at:
775.430.5029
or visit our website www.collabinkdm.com