Assembly Bill 375 would grant some of Nevada wineries' fondest wishes, doubling the current case limit, allowing other beverages to be served in tasting rooms, and paving the way for custom crush facilities. Photo: Artesian Cellars winemaker and co-owner Tim Burke made a Zoom presentation to state lawmakers on March 29.
Read More
Like everyone else, Nevada's winemakers hope we'll soon say good-bye to the pandemic. Grape Basin News is back after a dormant year, with news of upcoming events, competition winners, and a tribute to the late long-time Nevada Vines & Wines treasurer Lynne Keller.
Read More
In the first Federal ruling of its kind, U.S. District Court of Minnesota has struck down a 51 percent in-state fruit quota for Minnesota wineries, declaring the requirement an unconstitutional violation of interstate commerce. Minnesota's winemakers are celebrating, but the finding has implications for winemakers across the nation.
Read More
Covid 19 restrictions meant a smaller team of wine judges worked for two days instead of one. The result was a more relaxed pace, with greater focus, and the opportunity for good discussions about the wines. The Vinny Awards show that had been scheduled for August had to be scrapped.
Read More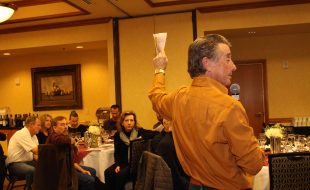 After more than a year of discussion and a false start in early 2019, Nevada has an organization devoted exclusively to viticulture and the craft of winemaking. Nevada Grape Growers and Winemakers took flight with 34 viticulturists, and amateur and professional winemakers in attendance. The group will meet monthly, hosted by vineyard owners.
Read More
After enduring a health scare this fall, Joe Bernardo and his doctor have agreed, it's time to walk away from some of life's most demanding activities. Partnership in Basin and Range Cellars tops the list. Photo by Grape Basin News: Joe Bernardo in the tasting room on December 22, 2019
Read More
Grape Basin News is inviting all Nevada grape producers to contribute harvest results for 2019, as we begin to record the state's annual grape crop. The reports will establish a baseline to track future expansion of both industrial and hobbyist viticulture in Nevada.
Read More
Behind the bar at the Nevada Sunset Winery  tasting room this week Alynn Delisle was touting their newest product. The sparkling wine is dubbed "Reno Sparkles."  Nevada Sunset collaborated with Crystal Basin Cellars to unveil the bubbly during the holiday season.
Read More
Work will begin on Monday to transform a house in Pahrump into the tasting room for Artesian Cellars wine. Tm Burke and partner Pam Tyler hope to open at the end of the year with a steampunk-themed décor.
Read More
As a Vino 100 Wine Club member, you get a global selection of wines that may not be available, or may only be present in limited quantity in our store. They are exclusive to you as a Vino 100 Wine Club member. Each bottle will reflect our commitment to bringing you the finest wines from our search. No membership fee just $35 each month. You get: * Two bottles of the amazing, hand selected wines * Complimentary glass of wine during Wine Club pick up * 10% Coupon Towards any bottle of wine. * Tech sheet to learn about featured wines * A recipe to pair with each wine * Selected events for Wine Club members only *  Your choice of 1 White/1 Red, 2 Reds, or 2 Whites * HUGE VALUE!!! Typically the Value exceeds $50! Questions? Call 775.851.8466