Nevada's wine community is again buzzing with special events, after two years of roller coaster COVID restrictions. Raise your glass to a full schedule of pairings, parties, classes, awards, and more, throughout 2022. Some upcoming events are previewed here. Photo: Grape Basin News
Read More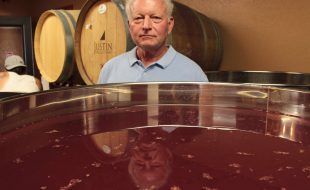 In only a year, Artesian Cellars Winery has become a hot spot in Pahrump. But not without a series of abrupt twists and turns, leading staffers to joke that the winery's name should be Adaptation Cellars. The winery enters its second year with a robust promotional calendar, 21 employees and compliments from a Las Vegas Strip sommelier.
Read More
You know you're headed for success when you can pack the place on a Monday night! Pahrump's newest winery rolled out the red carpet for a screening of the HBO documentary "Small Town News," featuring the town's own TV station KPVM. Photo: @GrapeBasinNews, the Exterior of Artesian Cellars Winery in Pahrump on August 2, 2021
Read More
After eight years of managing monthly tasting events, holiday gatherings, and vineyard tour parties Teri Bath wants to hand off the responsibility. Nevada Vines & Wines needs an event coordinator who knows how to plan a party, and relishes the role of host or hostess. Photo @GrapeBasinNews: Celebration at the Tamarack Junction, following the 2019 Vineyard Tour
Read More
Like everyone else, Nevada's winemakers hope we'll soon say good-bye to the pandemic. Grape Basin News is back after a dormant year, with news of upcoming events, competition winners, and a tribute to the late long-time Nevada Vines & Wines treasurer Lynne Keller.
Read More
Stephon's Mobile Bistro will roll home to New York next month, where owner Stephon Van Dyke has family. Nevada Sunset Winery hosted a parking lot sendoff to help finance the trip. No food truck operator has stepped up to fill Stephon's regular gig at the Wineries on 4th.
Read More
Work will begin on Monday to transform a house in Pahrump into the tasting room for Artesian Cellars wine. Tm Burke and partner Pam Tyler hope to open at the end of the year with a steampunk-themed décor.
Read More
Vegas Valley started making hard cider as a strategy to boost the winery's total Nevada fruit content. But the cider is a big hit, and now the question is, "how much more can we make?"
Read More
Engine 8 Urban Winery celebrated its long-awaited grand opening on Saturday, packed with well-wishers.
Read More
As a Vino 100 Wine Club member, you get a global selection of wines that may not be available, or may only be present in limited quantity in our store. They are exclusive to you as a Vino 100 Wine Club member. Each bottle will reflect our commitment to bringing you the finest wines from our search. No membership fee just $35 each month. You get: * Two bottles of the amazing, hand selected wines * Complimentary glass of wine during Wine Club pick up * 10% Coupon Towards any bottle of wine. * Tech sheet to learn about featured wines * A recipe to pair with each wine * Selected events for Wine Club members only *  Your choice of 1 White/1 Red, 2 Reds, or 2 Whites * HUGE VALUE!!! Typically the Value exceeds $50! Questions? Call 775.851.8466