Stephon's Mobile Bistro will roll home to New York next month, where owner Stephon Van Dyke has family. Nevada Sunset Winery hosted a parking lot sendoff to help finance the trip. No food truck operator has stepped up to fill Stephon's regular gig at the Wineries on 4th.
Read More
The prospect of a dozen or more Wine Academy students mingling in a basement classroom seemed risky in the face of the coronavirus threat, and potentially hazardous to instructor Joe Bernardo. Friends and past students were concerned. Enter the Nevada Grapegrowers and Winemakers, who immediately went to work setting up a remote class via teleconference.
Read More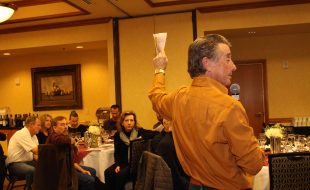 After more than a year of discussion and a false start in early 2019, Nevada has an organization devoted exclusively to viticulture and the craft of winemaking. Nevada Grape Growers and Winemakers took flight with 34 viticulturists, and amateur and professional winemakers in attendance. The group will meet monthly, hosted by vineyard owners.
Read More
Founders of the Nevada Grape Growers and Winemakers invited friends and family to celebrate their impending launch with a winemaker dinner. Reno's Wild River Grille built a menu around homemade Nevada wines, including several selections from Dyette Family Vineyard. Photo @GrapeBasinNews: Adrian Dyette with daughter Christine
Read More
After enduring a health scare this fall, Joe Bernardo and his doctor have agreed, it's time to walk away from some of life's most demanding activities. Partnership in Basin and Range Cellars tops the list. Photo by Grape Basin News: Joe Bernardo in the tasting room on December 22, 2019
Read More
Behind the bar at the Nevada Sunset Winery  tasting room this week Alynn Delisle was touting their newest product. The sparkling wine is dubbed "Reno Sparkles."  Nevada Sunset collaborated with Crystal Basin Cellars to unveil the bubbly during the holiday season.
Read More
Five Nevada winemakers brought home medals in the American Wine Society's 2019 Amateur Wine Competition, including two golds and a double gold. Two of them have advice for amateur winemakers who would like to compete.
Read More
Nevada Vines & Wines members voted on Wednesday to retain Teri Bath as president of the board of directors. Adrian Dyette was also reelected, and Sparks resident Craig DeGiovanni was elected as a new member .
Read More
Call it an "everyone wins" situation. Mike and Christine Lenox got help with a five thousand pound harvest. The North Valleys High School band got a $3,000 donation. Everyone got a day in the sun and fresh air. Photo courtesy of Christine Lenox.
Read More
As a Vino 100 Wine Club member, you get a global selection of wines that may not be available, or may only be present in limited quantity in our store. They are exclusive to you as a Vino 100 Wine Club member. Each bottle will reflect our commitment to bringing you the finest wines from our search. No membership fee just $35 each month. You get: * Two bottles of the amazing, hand selected wines * Complimentary glass of wine during Wine Club pick up * 10% Coupon Towards any bottle of wine. * Tech sheet to learn about featured wines * A recipe to pair with each wine * Selected events for Wine Club members only *  Your choice of 1 White/1 Red, 2 Reds, or 2 Whites * HUGE VALUE!!! Typically the Value exceeds $50! Questions? Call 775.851.8466